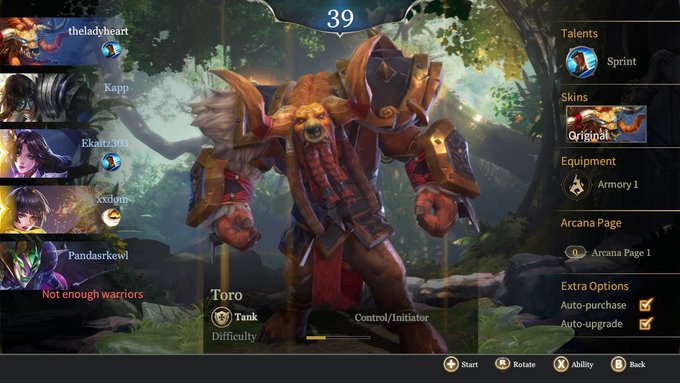 Area of Valor is a multiplayer online battle arena (MOBA) game that was first released exclusively for mobile platforms but later also got a version for Switch. Published by Tencent Games, the gaming division of the Chinese tech giant, it was an immediate hit in China.
In the US, it took its sweet time to become popular, and that too, only after they put it out for Switch. However, there are differences between the two versions, with the mobile version being more feature-rich.
Is there a PC version for it? Unfortunately, no. However, there's an alternative to playing this game on PC and we'll discuss it shortly.
Overview of Features
Arena of Valor is a MOBA game and like most MOBA games, the main goal is to get to enemy towers, defeating both other players and computer-controlled grunts, and take down the opposition's core.
You can play alone or as part of a team. As you defeat the enemies, your character progresses in terms of levels. Each round starts at square one, though. However, it doesn't take long to get to higher levels as there are monsters to kill everywhere along the way.
You'll also gain money as you play more, which you can use to unlock special moves or armor.
The primary mode is Grand Battle. This is a typical MOBA-style game with two teams, five on each side, battling up to nine enemy towers to destroy the core. It takes place on the Antaris Battlefield.
For three vs three modes, the battle takes place in the Valley Skirmish and has only two towers to conquer, making the game quicker. The one-on-one game only has a single tower and core. The most fun, of course, is Grand Battle.
The Abyssal Clash mode is for teams of five players and is an all-out battle fest. With just two towers and one core on each side, the fighting is pretty much instant. The players get to battle out frantically. In comparison, other modes are not that frantic.
Ease of Use
Overall the features of the game are easy to use. However, there is a learning curve and it may take some time for someone new to this genre of games to get the hang of it.
For those who have played games like DOTA or Heroes of the Storm, mastering Arena of Valor will not be something extraordinarily difficult.
In-app Purchases
The Arena of Valor game does have a lot of characters and features locked in that can be purchased with real money. That can be seen both as good and bad. Good because you don't necessarily have to wait to unlock more stuff and bad because those who can spend money can get ahead a bit faster.
However, it's pretty normal as many games make money this way.
Arena on Valor on PC
You can also play the mobile game on PC, using the LD Player Android emulator. It's quite simple and easy to use. All you have to do is download Arena of Valor PC, which is basically the APK file of the Android app.
Once you download this file on your PC desktop, drag and drop it on the home screen of LD Player, which is basically a desktop-like version of a typical Android home screen. The app will install automatically in seconds.
This way, you can even enjoy this MOBA game on PC, in addition to mobile and Switch.
Wrap Up
Arena of Valor is a decent effort by Tencent Games, but it also has drawbacks. Those drawbacks aside, the gameplay and graphics are on point with some of the best games in the industry right now.